Why Mediation
Mediation Services in Boise, Idaho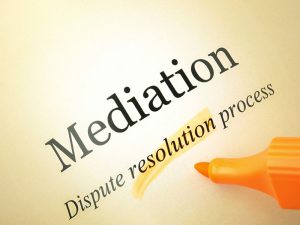 For those unfamiliar with mediation, it's important to note that, first and foremost, mediation is not for everyone. It takes a certain disposition to make the mediation process effective, and some circumstances might be too emotional or challenging to address outside of the courtroom. But when mediation is appropriate, it's often a productive and cost-efficient option for both parties.
Here's how mediation helps clients work on their own terms and timeline:
Traditional mediation can be a valuable tool. A judge might ask parties to attend mediation as part of the court hearing process, as not every law suit needs to be heard in court. This type of mediation is court-ordered mediation. Mudd Mediation can assist with court-ordered mediation, yet it is also very common for clients to work with Cindi Le Brett in private-sector mediation. This allows them to mediate their entire settlement.
Either way, mediation can help you take control over the situation. When you're able to find resolutions independent of the court's schedule, you're often able to save yourself time and money.
Here's why preventive mediation helps business owners be proactive:
Unlike traditional mediation, preventive mediation is about relationships. Relationship mediation is specially-designed to serve clients who are in the early stages of their disagreement. Rather than seeking to find a single solution to a single problem, preventive mediation is designed to reach holistic resolutions. It is particularly effective for business relationships, self-governing contracts, and restorative planning.
Many business owners appreciate the options that mediation affords. Often times with disputes, parties can't afford to sue. Mediation helps you protect your cash reserves as you work through your dispute. That way, you can maintain your company's daily operation, profits, cash reserves, and community rapport without the distraction of a dispute.
Mudd Mediation specializes in teaching clients how to analyze their preparedness to negotiate. This helps raise each client's awareness about the best practices for negotiation, both now and down the road.
Learn more with a complimentary consultation.
Having a dispute doesn't have to wear you down. There's a productive way to handle these situations with grace. That's where mediation comes into play.
When you work with the right system and have an open mind, you can find a real resolution. The next step for determining whether mediation is right for you is to reach out to the other party. Are they willing to explore mediation with you? Determine a couple days and times that work with your schedules, then feel free to reach out for your complimentary consultation.
During a preliminary one-hour meeting, we can discuss your specific situation and outline how mediation might serve both parties. Simply send a message or call (208) 315-3322 to check my availability for your complimentary consultation. I would be happy to help!